Rose gold wedding rings
We found 12 today
Page 1 of 1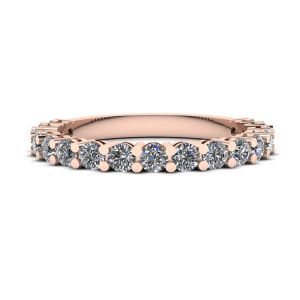 Customer reviews for Rose gold wedding rings
The result is excellent! At first, there were some doubts, but my engagement ring was ready even a little earlier than expected. I like it very much!

Mikhail David
FAQ about Rose gold wedding rings in India
What makes Rose Gold Wedding Rings a popular choice in India?
Rose Gold Wedding Rings are admired in India for their warm and romantic hue, symbolizing love and compassion. The rosy tint of the gold adds a touch of elegance, making it a sought-after choice for modern couples.
Can I wear a rose gold wedding ring every day?
Absolutely! Rose Gold Wedding Rings are not only stylish but also durable enough for everyday wear. The alloy composition of rose gold ensures its longevity, making it a practical and beautiful choice for those who want a ring to adorn daily.
How does rose gold complement different skin tones?
Rose gold is universally flattering and complements various skin tones. In our Indian store, we offer a range of Rose Gold Wedding Rings to suit different preferences, ensuring that the warm tones enhance the natural beauty of the wearer.
How do I care for my Rose Gold Wedding Ring?
Rose Gold Wedding Rings require minimal maintenance. Regular cleaning with a mild soap solution and avoiding exposure to harsh chemicals will help maintain the rosy luster. Our store provides care tips to ensure your ring stays beautiful for years to come.
Prices for Rose gold wedding rings in India
| | |
| --- | --- |
| ☑ Products category | Wedding Rings |
| ☑ Products quantity in the catalog | 12 |
| ☑ The cheapest product price | ₹69,900 |
| ☑ The most expensive product price | ₹237,027 |
PIERRE Jewellery in Other Countries